A staghorn fern is the aristocrat of cultivated fern, scientifically known as Platycerium sp. The genus Platycerium consists of about eighteen species usually found in tropical and subtropical forests. This genus is common to the tropics and subtropics of Africa, Southeast Asia, and Australia, although some species can tolerate quite cool temperatures. The eighteen species are epiphytic ferns with hanging fronds. According to a study, a basal split of Platycerium into two well-supported clades comprises species occurring in Africa, Madagascar, and South America, whereas the second clade contains exclusively Australasian species. Most of the species have divided fronds that are spore-bearing and size up to eight feet long.
Platycerium bifurcatum, commonly referred to as elkhorn fern, is native to the Northeast coast of Australia, Papua New Guinea, and New Caledonia. This elkhorn fern is a quickly grown plant in sheltered gardens. It can grow to a height and spread of about three feet. Moreover, Playtycerium superbum, or synonym called Playtycerium grande, usually known as staghorn fern, is found in the wild that clings to a rainforest tree. This epiphyte can reach up to six feet in height and spread as well as its sheer weight is oversize, which can make it fall to the ground. Staghorn fern does well in a fernery or garden, growing to about half its natural size.
Furthermore, Platycerium coronarium is an epiphytic fern that bears a gigantic morphology, and it is native to tropical areas of South America, Africa, Southeast Asia, Australia, and New Guinea. It nests on the upper branches of the tallest trees in the forest. However, having uniquely shaped fronds, they are famous for ornamental purposes, where they can be found in gardens, especially in tropical regions.
These staghorn ferns can be grown as epiphytes by tying them onto boards attached to a post or tree or commonly grown in a basket sold at a commercial nursery. The sterile nest leaves catch some leaf litters and other vegetable or organic matter. Therefore, the roots eventually grow into debris and are protected from the wind. The base of the plants should be kept moist. Fertilize the plants with dilute liquid manure. Propagation can be conducted through the germination of the fern spores or the spilling of the divisions.
Traditionally, the leaves of staghorn ferns treat fever, premature abortion, irregular menstruation, inflammation, and an ulcer (oral communication). In addition, the leaves of P. bifurcatum are used in the ethnomedical treatment of ulcers, miscarriages in women, oedema, cough, and hypertension treatment. Furthermore, it has antibacterial activity against the activity of Escherichia coli, Staphylococcus aureus, Pseudomonas aeruginosa, and Klebsiella pneumonia.
Moreover, they are the ferns that stand out among ferns as one of the most commonly grown ornamental ferns that have both the economic value and the accessibility of living plants is reflected in the frequent use of these ferns in the studies on cytological, developmental, and physiological features of vascular plants.
In addition, these attractive plants are distinct from other ferns by stellate hairs on the leaf lamina, the differentiation of the leaves into litter collectors, which are often called mantle leaves or base fronds. They also have dichotomously forked trophosporophylls with coenosoroid to acrosoroid patches of sporangia. Due to its elegant morphology, they are prompted mainly by the appearance of new literature and the realistic possibility of assembling private living collections of all species. Its staghorn-like morphology is usually mounted onto the wood, hanging on the wall like a preserved stag with its horn.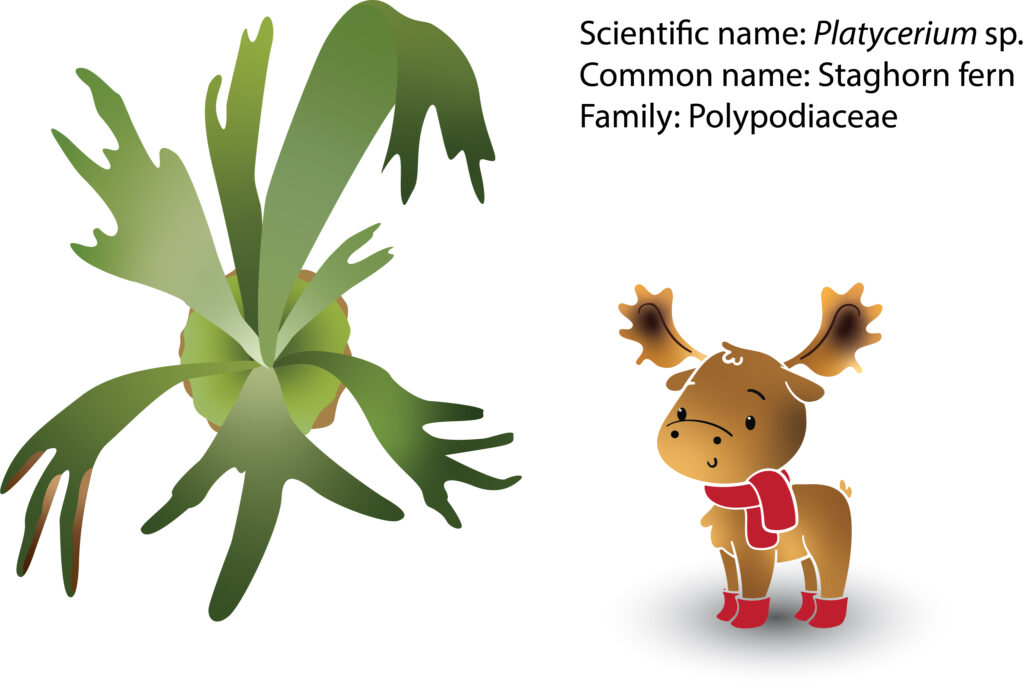 Further reading:
Hoshizaki, B. J. (1975). A staghorn fern (Platycerium) hybrid. American Fern Journal, 65(4), 99-101.
Hoshizaki, B. J., & Price, M. G. (1990). Platycerium update. American Fern Journal, 80(2), 53-69.
Schneider, H. P. K. A. H. (2006). Phylogeny and biogeography of the staghorn fern genus Platycerium (Polypodiaceae, Polypodiidae). American Journal of Botany, 93(2), 217-225.
Taha, R. M., Haron, N. W., & Wafa, S. N. (2011). Morphological and tissue culture studies of Platycerium coronarium, a rare ornamental fern species from Malaysia. American Fern Journal, 101(4), 241-251.
Chinaka, I. C. B., Okwudili, O. S., & Nkiru, D. A. I. (2018). Chemical composition, antioxidant and antibacterial properties of chloroform fraction of Platycerium bifurcatum. Advanced Research in life Sciences, 2(1), 1-6.